If you want bespoke cabinetry and to have complete control of the design and the installation we are confident we have the best solution available. Have a look at the Gallery section to see the projects we have helped our customers accomplish.
However as a first step you may want to get an idea of price. 'Ballpark' prices for any bespoke item is a fraught topic but we have a number of tools to get you answers with the miniumum of effort on your part.
Fast Quote
The idea is to take some overall dimensions and we generate a price from this. We still use our detailed quoting system to generate the price but we make many (reasonable) assumptions on material choice and features to get you a price while asking the minimum number of questions
Try Fast Quote now >>
Cabinet Planner
The Cabinet Planner is the next level of detail. Here you can enter the measurements for a run of cabinets and specify more parameters such as door width. If you want cabinetry to fit under a sloping ceiling such as in a loft conversion or a vaulted ceiling extension then this is the tool to use. As well as generating a price, the Cabinet Planner generates a list of cabinet sizes which you can load into the Cabinet Designer tool for further customisation.
Try Cabinet Planner now >>
Cabinet Designer
For designing an individual cabinet/wardrobe the Cabinet Designer provides the means to specify a full range of parameters. In fact over a hundred. You can specify materials for the doors, drawers, carcass and choose the number of doors, shelves, drawers. It's the ultimate in online cabinet customisation.
Try Cabinet Designer now >>
Template cabinets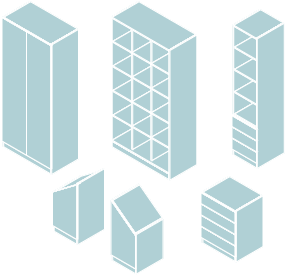 Choose from our template cabinets to start your design. Combine several template cabinets and then customise to create your unique design.
Review the Template Cabinets now>>