Bespoke fitted furniture is furniture made exactly for the space in which it is installed.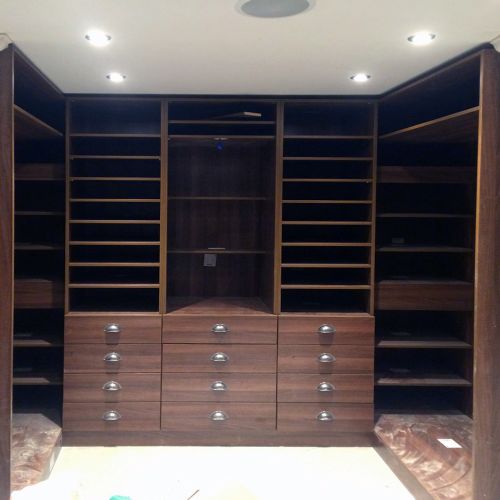 Made to fit a space means:
for floor to ceiling units the height is the exact floor to ceiling height (minus a space to make the fitting easier but then you will get an exact size filler piece for the gap)
for units under a sloping ceiling the angle is chosen to exactly match the sloping ceiling
the units have cutouts for the socket/pipes etc that may be in the room
choose any material you like
mix the materials as you please (different materials for doors, cabinets, drawers etc)
integrate the features that you want e.g shoe racks, TVs, ironing boards etc
all the material preparation is done in the factory not on site so the finishing quality is high
There are two types of furniture that sometimes get confused with the term 'bespoke':
off the shelf furniture (e.g Ikea) that has been modified by a carpenter. Typically off the shelf furniture has been designed for mass production and ease of transport so it lacks the structural integrity to tolerate substantial modification.
custom size furniture. Large parts of the furniture supply chain don't want to hold stock so the furniture only gets made when there is a customer order. Within this system is the opportunity to customise the height, width and depth dimensions so it starts to offer some of the sizing benefits of bespoke.